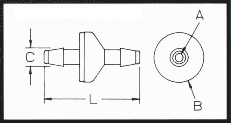 In-Line Filters are designed for the removal of most visible particulate in aqueous solutions and gas streams.
In-Line Filters housings are manufactured in Nylon, Polypoylene and Clear Polycarbonate materials and are assembled with either a Stainless Steel filter or a High-Density Polyethylene (HDPE) filter.
Stainless Steel are mesh filters with 100 mesh count for larger particles or 200 mesh count for fine particle removal. HDPE filters are fiber filters with a 45 to 90 micron density (HDPE 4903) for larger particles or a 90 to 130 micron density (HDPE 4913) for fine particle removal.